When it comes to starting a business, financing the endeavor is one of the first hurdles to jump. While taking out a loan you may have seen the term UCC Filing on your business credit report and been confused. Below we will lay out what a UCC Filing is, how to remove it, and why it is important to your small business.
What is a UCC Filing?
In the 1950s the United States started the Uniform Commercial Code (UCC), a series of laws concerning commerce that are the same across all 50 states. One of those Uniform Codes is Article 1: General Provisions or a UCC-1 Filing.
A UCC-1 Filing Statement, or UCC-1 Financing Statement, is a legal document that is filed by a creditor to give public notice that they have a security interest in property or assets of a debtor. This document becomes a security agreement that allows a creditor to secure a UCC Lien on equipment, property and assets of a small business in exchange for giving a loan to that said business.  
According to Fundera Ledger, "The UCC-1 Financing Statement is filed in order to "perfect" a lender's or creditor's security interest by giving public notice that there is a right to take possession of and sell certain assets for repayment of a specific debt with a certain debtor." This lien also ensures that businesses can't attain multiple loans collateralized by the same property or assets. The filing essentially gives notice that the first lender has the first rights to the property or assets.
These are the two types of UCC Liens that you will see often:
UCC Liens Against Specific Collateral: when a lender obtains a security interest in one or more of a business's assets (not all the assets).

UCC Blanket Liens: when a lender obtains a security interest in all assets of your business.
Why they're Important to Small Businesses
While UCC Filings and Liens won't necessarily be a direct concern for you and your business operations, there are certain things about a UCC Filing that can hinder you.
One thing it can be a huge concern is the ability to attain additional borrowing. Even once a business has paid off their debt in full many times a creditor will not terminate the lien on your assets immediately. This could hinder you in qualifying or obtaining more loans or higher forms of financing due to a UCC Lien still being active on public record.
Another thing it can affect is your business credit report. A business's UCC Liens will show up on the report for the past five years. This listing could also hinder in obtaining additional forms of borrowing. The filing and lien also increase the risk loss if your business is not able to pay off the debt. This would result in losing the assets or property you put up as collateral.
The best way to avoid most these hindrances is to monitor your business credit report and check the status of a UCC-1 Filing made against your business. Another way is to remove the UCC Filing when it has expired and the debt has been paid.
How to Remove a UCC Filing
The first and simplest way to remove a UCC lien legally is to pay off the debt to your creditor. After the debt is paid there are different rules to removing a UCC Filing depending on what state your business is in.
One of the most common steps a business could take is to have the creditor file a UCC-3 financing statement amendment. This will remove the filing on the loan. You can attain this form on your state's secretary of state website.
Another way to remove the lien and filing is to swear an oath of full payment at your state's secretary of state office. Once this termination notice is put in place, only the record of the UCC Filing will be left on your business credit report (for five years) but it will publicly show it has been satisfied.
The best thing to do is to monitor your filing and when you know you have satisfied the lien to immediately file for its removal with your creditor. Most lenders don't take the time to file for the lien's removal until you ask them to do so.   
UCC 1 Financing Statement Example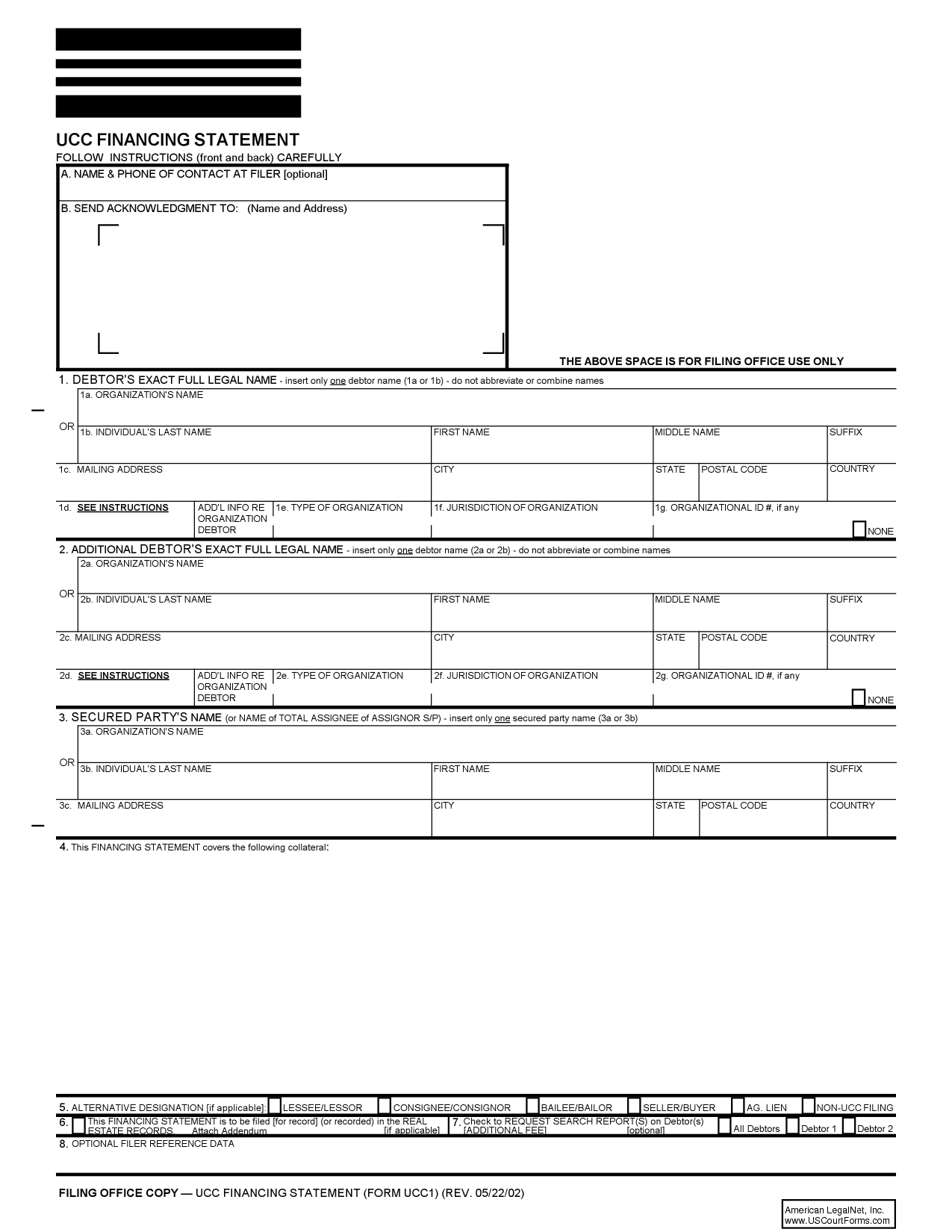 You file a UCC-1 financing statement with your state's secretary of state and can find an example of the form below. You can also look at a full pdf version here.
The Smart Hack
If you need more information on understanding financing, such as what SBA loans are and where to go to get one, we are here to help!
UCC-1 filings are, when boiled down, pretty straightforward and not as scary as one might think. The only thing you need to be aware of is how they can affect your chances of getting additional funding for future endeavors. The best bet is to always keep an eye on the status of your UCC filings to ensure future quality funding.